When Surgery Is the Right Choice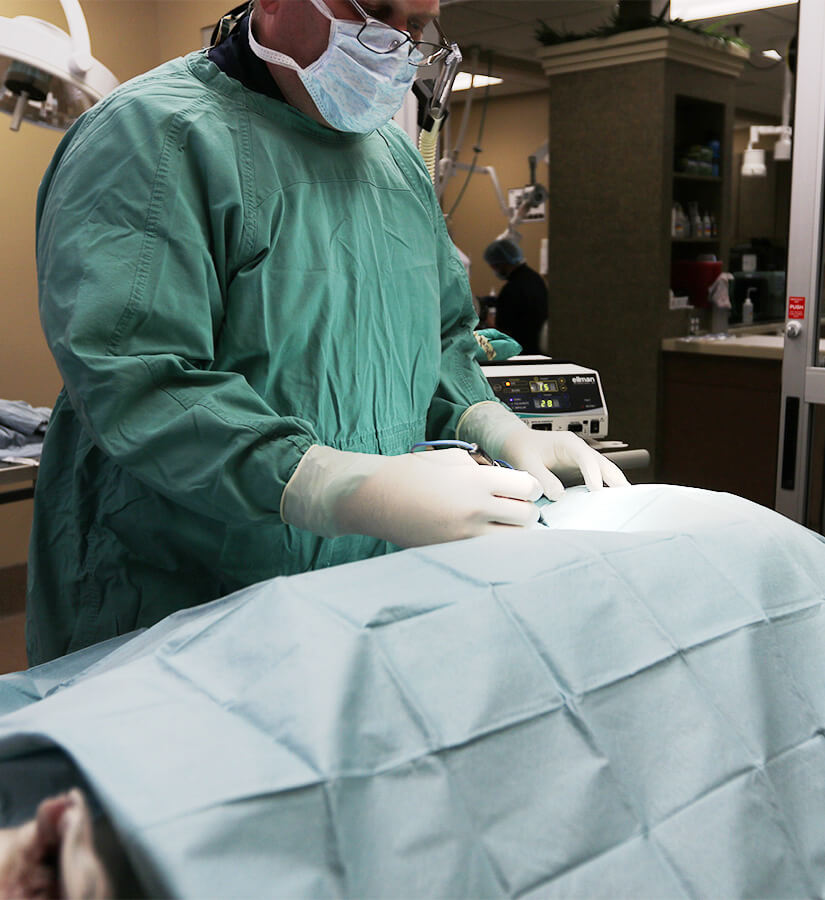 Our doctors understand how stressful surgery can be for you AND your pet. Our principal concern is your pet's safety and comfort throughout their surgical stay, and we strive to make the entire experience as stress-free and safe as possible. Furthermore, our highly skilled surgical team utilize the most recent advances in intra-operative and post-operative pain management to tailor your pet's pain therapy protocol.
Prior to surgery, your doctor will perform a thorough physical exam, an ECG and appropriate laboratory analysis to design a safe anesthetic protocol specifically for YOUR pet.
During every surgical procedure, our dedicated, highly trained, anesthetic technician will continuously monitor your pet using our advanced anesthetic monitoring equipment. In recovery, your pet's nurse will continue to track your pet's vital signs, assess pain, nausea, or evidence of stress. Upon discharge from the hospital and during the days that follow, we're here to answer any questions you might have and to help you and your pet through a stressful time.
Dedicated Surgical Anesthetist
During every surgical procedure, our dedicated anesthetic technician will be on hand continuously monitoring your pet's vital signs. Each pet receives an intravenous catheter to provide IV fluid therapy before, during, and after the procedure. You will receive a copy of this monitoring record at the discharge appointment. 
Each surgery procedure includes individualized pain management protocols for the pre- and post- operative, as well as the intraoperative period. Your discharge technician will review your pet's specialized pain management protocol during your discharge appointment.
What We Offer
In addition to our very high standard, we offer years of surgical experience performing a variety of surgical procedures such as, but not limited to:
Ovariohysterectomy (spay)
Brachycephalic Syndrome procedures
Orchidectomy (castration)
Trauma and Emergency Surgery
Laparotomy (abdominal surgery)
Extensive and simple mass removal
Limb, Digit, or Tail Amputation
Femoral Head Osteotomy (FHO)
Electrosurgery – It's Cutting Edge!
Radiofrequency (RF) electrosurgical systems, first developed in 1928, are the most common energy sources used for cutting and hemostasis in surgery. But not all systems are the same! PCVH surgeons have invested and trained on the Ellman 4.0 MHz radiofrequency electrosurgery unit using high frequency, low temperature technology providing superior surgical precision. So, when a traditional scalpel just won't "cut it", come see Pine Creek Vet for the latest in cutting edge surgery!
What does electrosurgery mean for your pet? 
Less tissue damage
Enhanced healing
Minimized post-operative pain
Less blood loss
Less scar tissue